(Richland and Sargent Counties)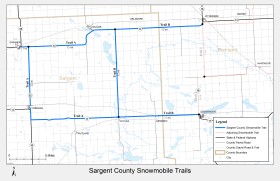 Snow Conditions:
Updated:  April 1, 2015
Amount of Snow:  0 inches
Recent Snowfall:  0 inches
Snow Depth:  0 inches
Current Weather for Milnor
Trail Condition:  Mandated by ND State Legislation all snowmobile trails are open from December 1st – April 1st.
Trails:

Trail A:  Closed
Trail B:  Closed
Trail Conditions Phone Hotline:

701-328-5377
Select Option 1 for the Latest Snowmobile Trail Conditions
Communities: (Click Here for Accommodations)
Gwinner, Forman, Rutland, Cayuga, Geneseo, Lidgerwood, Wyndmere, Delamere and Milnor
Total Trail Miles:

88 Miles
Connecting Trails:

Southern Valley Trail Riders Trail
Descriptions:

The Sargent County Trail offers miles of riding in the southeastern portion of the state.  Each community offers restaurants, gas stations, motels, grocery stores, and snowmobile repair shops.
Contacts:

Kevin Yagow
701-680-3676
Clubs:

Sargent County Snowmobile Club
PO Box 58
Milnor, ND 58060