(Cavalier, Pembina and Walsh Counties)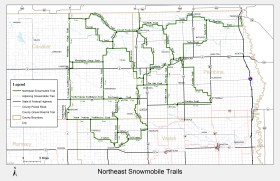 Snow Conditions:
Updated:  April 1, 2015
Amount of Snow: 0 inches
Recent Snowfall:  0 inches
Snow Depth:  0 inches
Current Weather for Cavalier
Trail Condition: Mandated by ND State Legislation all snowmobile trails are open from December 1st – April 1st.
Trails:

Border Trail:  Closed
Moonlighter Gorge Trail:  Closed
North Nekoma Trailblazers Trail: Closed
South Nekoma Trailblazers Trail: Closed
Gorge Bypass Trail:  Closed
NESCA Trail:  Closed
Tri-County Trail:  Closed
Tetrault Woods Trail:  Closed
Cruisers Trail:  Closed
Par Site Trail:  Closed
Sandhills Trail: Closed
Neche Trail:  Closed
Pembina Trail:  Closed
Cavalier Trail:  Closed
Trail Conditions Phone Hotline:

701-328-5377
Select Option 1 for the Latest Snowmobile Trail Conditions
Communities: (Click Here for Accommodations) 
Wales, Langdon, Nekoma, Fairdale, Adams, Milton, Osnabrock, Edinburg, Olga, Walhalla, Akra, Mountain, Neche, Bathgate, Backoo, Cavalier, and Pembina
Total Trail Miles:

423 Miles
Connecting Trails:

Lake Region and Red River North
Descriptions:

The Northeast Trail System, known as the Pembina Gorge Trail, is located in the northeast corner of the state.  The Gorge itself is a must see natural phenomenon. This system ties into the Canadian trail at three major points and it also ties into two major Minnesota trails. This trail offers miles of riding and usually has very good snow.
Contacts:

Jon Iverson – Langdon Loop
701-370-9992
Andrew Horsley – Cavalier Loop
701-265-2543
Clubs:

Moonlighters Snowmobile Club
9453 104th Ave NE
Langdon, ND 58249
Nekoma Trailblazers
212 Main St
Nekoma, ND 58355
North Valley Riders
14399 Cty Rd
St. Thomas, ND 58276
Pembina Hills Trailriders
PO Box 825
Walhalla, ND 58282
Tri-County Trailriders
PO Box 55
Park River, ND 58270
Walsh Coulee Cruisers
7107 123rd Ave NE
Adams, ND 58210