2014: Missy Sjolin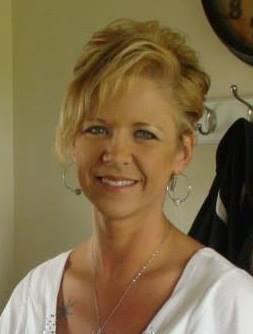 Missy was a member of the Ransom County Driftskippers snowmobile club and joined Snowmobile North Dakota (SND) in January of 2000. Her dedication to the snowmobile club soon passed onto SND when she became Secretary for the organization in 2002.  Because of her dedication and willingness to learn, she was elected as Director-At-Large in 2005.  She served one year and then was elected as Vice President.  Her continued dedication to the organization was noticed by the membership and soon she was elected as President in 2007.  Missy served as President from 2007-2010, followed by a one year term as Past President of the organization.  During her years of service she helped the snowmobile program succeed in many areas.  She managed the internal revenue service 501 (c) 3 application process and helped lead the 2008-2012 North Dakota Snowmobile Program Strategic Plan implementing annual action plans for the Board of Directors to achieve success.  Missy also helped assist with structure and support for the 2010 MichCanSka ride providing guides and meals for the participants during their trip through North Dakota.  MichCanSka voted North Dakota as the most hospitable during the awareness snowmobile ride from Michigan to Alaska.  One event we still celebrate today that is entering its sixth year in North Dakota is the Pink Ribbon Riders Snow Run.  Missy's enthusiasm to help and to place North Dakota on the map as a snowmobile destination, lead the organization to invite the Pink Ribbon Riders to host a Snow Run in the state.  Over six years later, the Pink Ribbon Riders North Dakota Snow Run has generated over $200,000 for the Patient Assistance Program, which provides $500 gift cards to breast cancer patients.  But the most memorable event of them all was the 2006 SND convention where she stole Marty Malachowski's "Famous Red Horn" and placed it on SND's silent auction table.  Who would have ever thought Randy Zacher would have bid $100 and dedicated his funds to the organization's scholarship program forever sealing the "Famous Red Horn's" fate with the organization; to date its raised over $1,000 for the scholarship program.  Missy serves as a mentor for many.  Her passion for snowmobiling and dedication to see SND succeed will, always be remembered and is an essential part of SND's success.
2013: Dennis Gravseth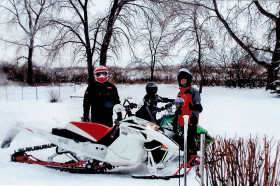 Dennis was one of the original members of the Metigoshe Family Snowmobile Club that was instrumental with starting the trail system that has grown in the Turtle Mountains.  He helped with fundraisers, state rides, legislation rides and implementing gas tax to help fund the state snowmobile trail system.  Dennis earned charter member status with the Roaring 20's snowmobile club, which keeps the trails going today.  He has been involved in every aspect of snowmobiling teaching safety classes, working on state rides through the Turtle Mountains, raising money for Special Olympics, and most recently volunteering as a guide for the Pink Ribbon Riders ND Snow Run. Dennis also served as the original guide and marker for the international rides. In the 90's he helped the club raise funds through an annual Turkey Roast providing funding for warming houses and gates through the Turtle Mountain trail system.  Dennis always has and continues to work with the land owners to make a trail system that everyone can travel safe on and enjoy.  Dennis was involved as an officer in different positions and was a trail coordinator several times through the years with the Metigoshe Family Snowmobile Club.  The club did more than just maintaining the trail system.  It helped raise money for the community, fire departments, ambulance and giving snowmobiles away to kids and adults through numerous raffles.  The Roaring 20's club took over the trail system in the late 90's.  Dennis still works with the trails and will always be there to clean and mark trails, with safety and enjoyment in mind for all those that enjoy the sport of snowmobiling!
2012: Eugene "Gene" Hammer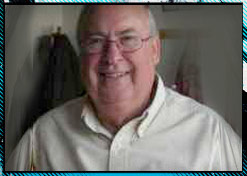 Gene started snowmobiling in the 1970's and his love of the sport still lasts today. He and his family put many, many miles on the sleds that they owned through the years. Gene and his wife Donna moved to Rugby in 1989 and because Rugby did not have an established snowmobile club, they joined the Leeds Club and quickly found a network of snowmobilers there and in the Rugby area. As interest grew in Rugby to start a club and a trail system, it was decided to host a meeting on January 18, 1998. That night the Northern Lights Trail Blazers club was established and Gene was elected as the clubs first president. He served as president until April 2001. Gene took it upon himself to ensure the club was properly represented at the state level. He attended his first state convention in October of 1998. Gene loved to be involved in Kids Rides, Family Days and Safety Classes and trail establishment was also a top priority for him. After 2001 he remained active in the club, helping at events and attending state conventions. Gene was elected as Director-At-Large in 1999 to the Snowmobile North Dakota Board of Directors. In 2000 he was elected as the Northwest Director. He served in the position until 2004, serving a total of 5 years on the Board of Directors. Everyone that worked with Gene comments on how easy he was to get along with and how instrumental he was in establishing the "roots" for the Northern Lights Trail Blazers.
2011: Paul Christenson
Paul Christenson became a member of Snowmobile North Dakota in 1994. He is a member of the Northern Exposure Snowmobile Club holding Trail Coordinator and Groomer Operator positions. In 1997, he was elected as a Northeast Director for Snowmobile North Dakota. A year later in 1998, Paul was elected to the Executive Board as the Northeast's representative. While serving on the Snowmobile North Dakota Board of Directors, he was selected to be a snowmobile representative on the Recreational Trail Program's grant committee. Paul's knowledge and experience of the Recreational Trail Program, helped the snowmobile trail program purchase equipment and signs for the trail systems in the state. During Paul's ten years with Snowmobile North Dakota, he also served as Vice President and President of the organization. Based on Paul's training and experience with equipment, he was instrumental player in developing materials for the groomer operations training. Plus he spent countless hours in the classroom and behind the wheel training the next groomer operators for the state. Paul was an advocate in making sure the snowmobile program excelled in its mission, "to generate excitement for the sport of snowmobiling". Making the state snowmobile trail program a number one priority in all Snowmobile North Dakota business! The program couldn't have accomplished what it has today without his guidance and outstanding commitment making him a face that will never be forgotten!
2010: Jerry Lawson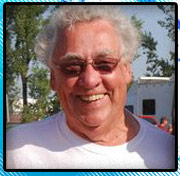 Jerry Lawson was strong presence in North Dakota's snowmobile industry during the 1980's and 1990's.  He was a key force in the establishment of the state snowmobile trail program.  Jerry served as Snowmobile North Dakota's President from 1978 to 1980 and also 1988 to 1991.  He also served as Vice President for three years, Treasurer for one year, and Director-at-Large for one year.  Throughout these positions and his other volunteer efforts he worked with many individuals from the North Dakota Parks and Recreation staff in making snowmobiling a strong presence in the state's economy.  He was around for the establishment of the first snowmobile trail system in the state, hiring of the first Snowmobile North Dakota employee and key legislation to ensure funding to maintain the state snowmobile trails.  Jerry helped lobby to increase the snowmobile registration fees as well as establish funding through a portion of gas tax.  Without his efforts in these matters, the snowmobile industry wouldn't be as successful as it is today.  In 1991, Jerry presented North Dakota Parks and Recreation's Director, Doug Eiken, and the Cross Ranch Park Ranger, Jesse Hanson, with a Bombardier groomer to the park.  The groomer was to be used for grooming the cross country ski trails.  He went above and beyond his passion to work with agencies in other aspects of outdoor recreation creating good moral for Snowmobile North Dakota business and the snowmobile industry in the state.  Over the years, Jerry has also attended the International Snowmobile Congress to bring back information on snowmobiling at an international level.  His attendance at these events even continued after he was no longer serving a position with Snowmobile North Dakota.  Jerry has done many wonderful things for Snowmobile North Dakota and continues to support the organization as a member.
2009: Dale Deibert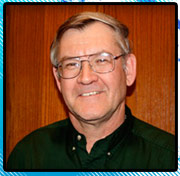 Dale Deibert is 110% dedicated to promoting and participating in the wonderful sport of snowmobiling.  He is a man who lives and breathes snowmobiling 12 months of the year.  His dedication shows in his work preparing, installing and removing signs, equipment maintenance, parade exposure, attending conferences and manning SND booths.  He is a well-rounded advocate that the snowmobiling industry is fortunate to have a fraction of his time.  Dale is a master at selling tickets to promote snowmobile functions and individuals prepare for his encounters at events with cash in hand ready to support his efforts.  Most individuals involved with SND know Dale Deibert, not only as a snowmobiler but as a great friend too.  He's the first to extend a lending hand and if you say the word trail; his image becomes a blur as he's already on his way to help.  In his local region alone he's been involved with three different clubs serving officer positions in all of them.  He also helped establish the Sno-Trails Association in 1995 and has been the Trail Coordinator ever sense.  His efforts have lead him across the state instructing trainings, testing equipment, and conducting inspections.  Dale has truly impacted snowmobiling.  North Dakota is fortunate to have Dale's dedication and determination to ensure success in this great state.
2008: Ron & Rhoda Greenup
For most people the word retire means stepping back and looking forward to a new part of life.  For Ron and Rhoda Greenup, Snowmobile North Dakota's 2008 inductees into the organizations Hall of Fame, the word retire is a whole new meaning.  With over 30 years of dedication between the couple, Snowmobile North Dakota has received benefits and support pushing the organization to succeed and although today neither hold office positions, they still continue to provide dedication and support.  That dedication and support comes through in Rhoda's continued efforts in managing Snowmobile North Dakota's Grant & Aid and Scholarship funding programs and their dedication in attending the annual conventions and International Snowmobile Congresses.  The Iron Dog Brigade meets annually at the International Snowmobile Congress and in order to become a member you have to be elected by the members.  Ron and Rhoda are just one of the few individuals that have been elected as a couple.  So the Snowmobile North Dakota Board of Directors feel it's only fitting to induct Ron and Rhoda into the organizations Hall of Fame together.  This deserving award is just a notch on the list for all of the support and continued efforts this couple has provided to the snowmobile industry in North Dakota.  It brings a smile to many faces when Ron and Rhoda refer to the Snowmobile North Dakota members and employees as the "Kids" because knowing we got to be just even a small part of their lives and involvement with the organization is reward for anyone.  They continue to carry on their dedication by constantly reminding people why they should be involved and why it's important to be involved in all aspects of snowmobiling.  Snowmobile North Dakota extends its gratitude for all of the years of service and continued dedication.  Because of the two of you Snowmobile North Dakota's successes have seemed grander and fulfilled!
2007: Lloyd Sauer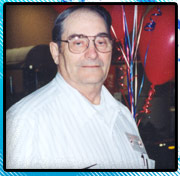 The name Lloyd Sauer carries meaning throughout the Snowmobile North Dakota members.  If there is anyone with enthusiasm and loyalty to snowmobiling, it is Lloyd.  As a member of the Mt. Carmel Snowmobile Club and the Moonlighter Snowmobile Club, Lloyd was drawn to Snowmobile North Dakota.  Through local club efforts he had a hand in creating the first snowmobile trail in the Pembina Gorge called the Moonlighter Trail.  As the trails grew and more clubs developed NESCA (Northeast Snowmobile Club Association) was formed.  During his lifetime Lloyd has fulfilled different positions in both clubs and NESCA, everything from Trail Coordinator to Treasurer.  Lloyd has always been a presence in promoting safe snowmobiling through instructing classes and assisting with the classes.  The best way to sum up Lloyd's local involvement is to say he has been the driving force of the trail systems in the northeast area for many years.  It has been said that without Lloyd's kind demeanor and knowledge of snowmobiling it would not have been possible to have trails in many areas in the Northeast Trail Association.  His involvement on the local level only helped progress Snowmobile North Dakota's program serving as a Director for the Northeast Region for over 20 years, with his last term ending in 2001 and his dedication didn't stop there.  In 2002, North Dakota State Parks awarded Lloyd with the North Dakota Parks & Recreation Special Merit Award  for furthering snowmobiling opportunities in North Dakota.  For three years, the North Dakota Governor, George A. Sinner, selected members to be present on the Snowmobile Trails and Safety Advisory Council starting in January of 1989 and ending in November of 1991.  Lloyd Sauer was a representative on the council for all three years.  Lloyd has always had a genuine interest in making snowmobiling a better activity.  His involvement has helped contribute to the overall success of the program and what has been established, especially in the northeast region.  In 2007, at the time Lloyd Sauer was inducted into the Snowmobile North Dakota Hall of Fame, he was the only person who served over twenty years on the Board of Directors.
2006: Dan Vammer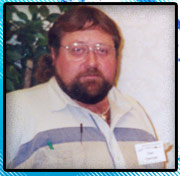 Dan Vammer was a member of the Little Missouri Snowmobile & ATV Club for 18 years, holding positions of Director, Trail Coordinator, and Groomer Operator.  In 1987, he furthered his education and dedication by becoming a Southwest Director of Snowmobile North Dakota.  The North Dakota Parks & Recreation Department asked Snowmobile North Dakota to develop an Executive Board in the early 90's, which he was elected to as the Southwest Region's representative.  In addition, he was selected to be a representative on the Grant Committee for the North Dakota Recreational Trail Program.  Through his knowledge and experience of the Recreational Trail Program, he was able to assist in helping the snowmobile trail fund purchase trail equipment and signs for the trail systems in the state.  He excelled in all of his positions and always had in mind what was in the best interest for the state snowmobile program.  His years of service ended in October of 2003, following his passing after fighting through struggles of a kidney disease and heart problems.  The passion and dedication he had for the sport of snowmobiling lives on in his family and many Board members who had the wonderful opportunity to work with him.  Whoever met him, never forgot him, as he was never at a loss for words.  His years of service to Snowmobile North Dakota will forever live on in the history of the organization.